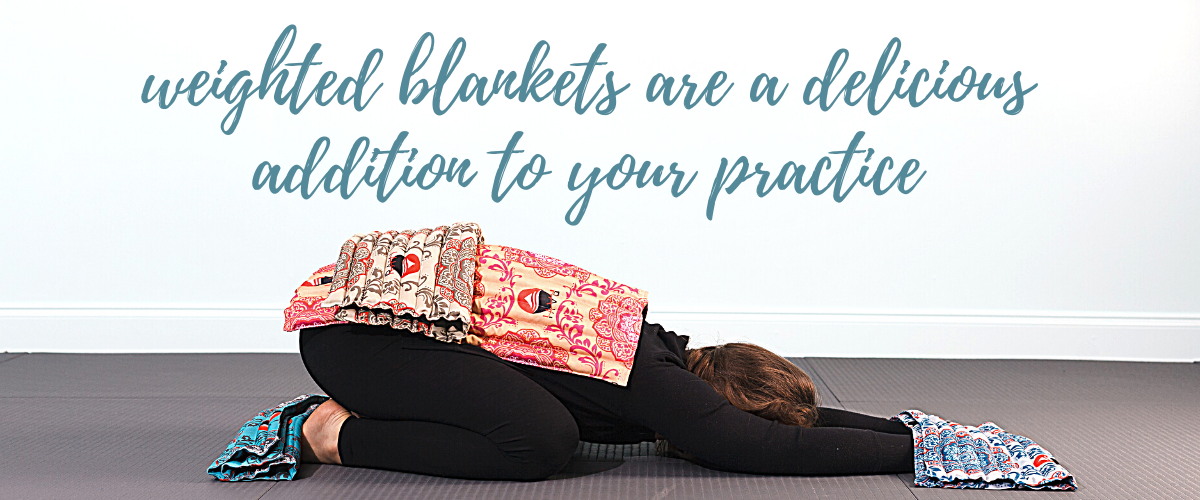 RAVI Adds support and comfort to your yoga practice!
Do you love props that help you feel more comforted and supported?
Do you enjoy deep stretches?
Do you love to roll around on the floor with props?
Stretch
RAVI helps you ease into deeper stretches by leveraging the weight to help Anchor and Torque parts of your body.
Calm
Weighted Blankets help ground the body to create more space for calm.  The body responds to the weight as if you were receiving a hug.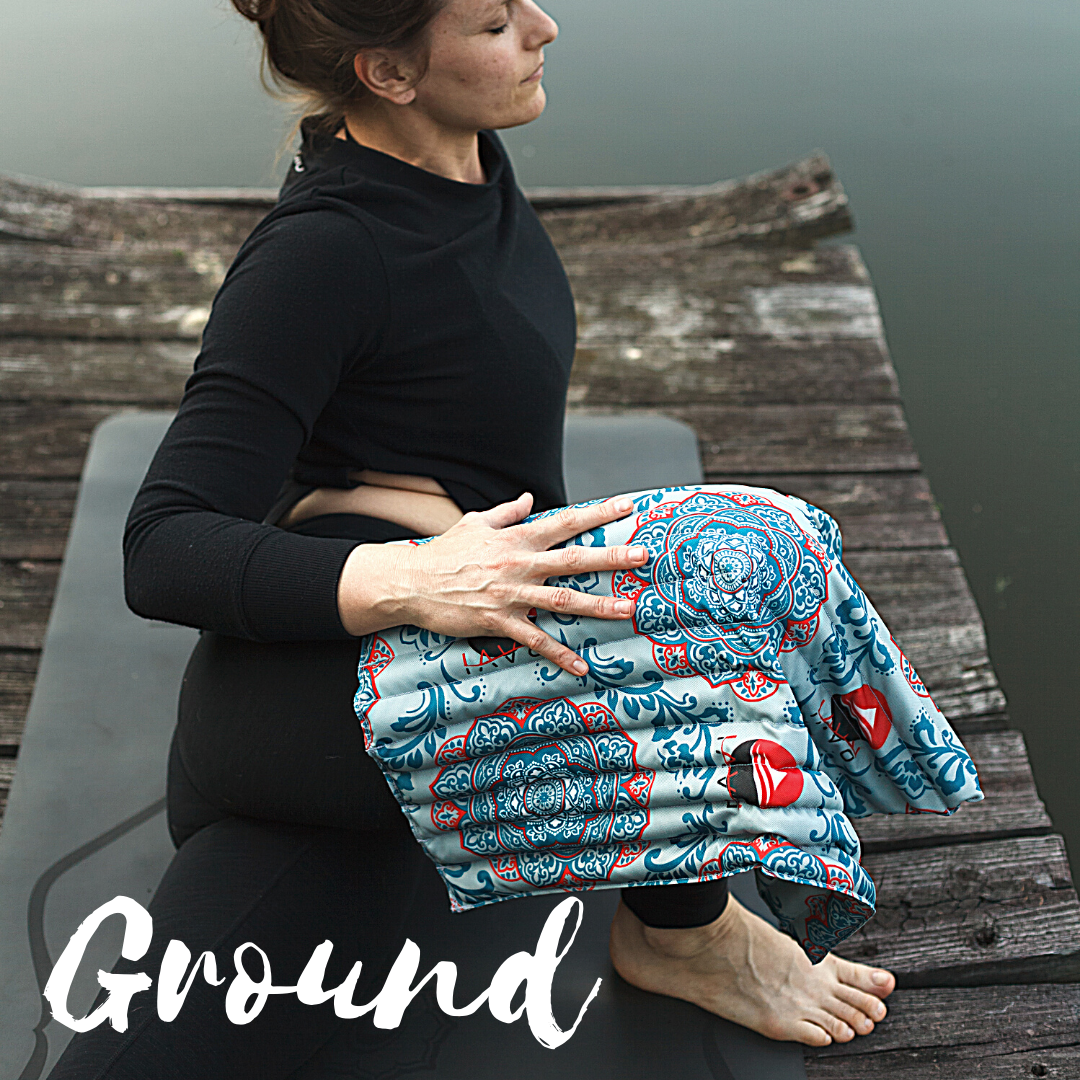 Ground
Grounding is the process of coming into the present moment, disrupting negative thoughts of anxiety about the future or regrets of the past.
Focus
Strategic placement allows you to create a focal point for the shape you are in as well as expanding your experience of the pose.
Breathe
Breath is a constant movement within the body.  Place the weight to create resistance and focus for your breath.
Support
RAVI molds and folds to create the perfect support for your body.  The support is more solid than a blanket and more malleable than a block.
Balance
Center of mass is the balance point of the body.  Weight influences your balance & allows you to experience balance from a new perspective.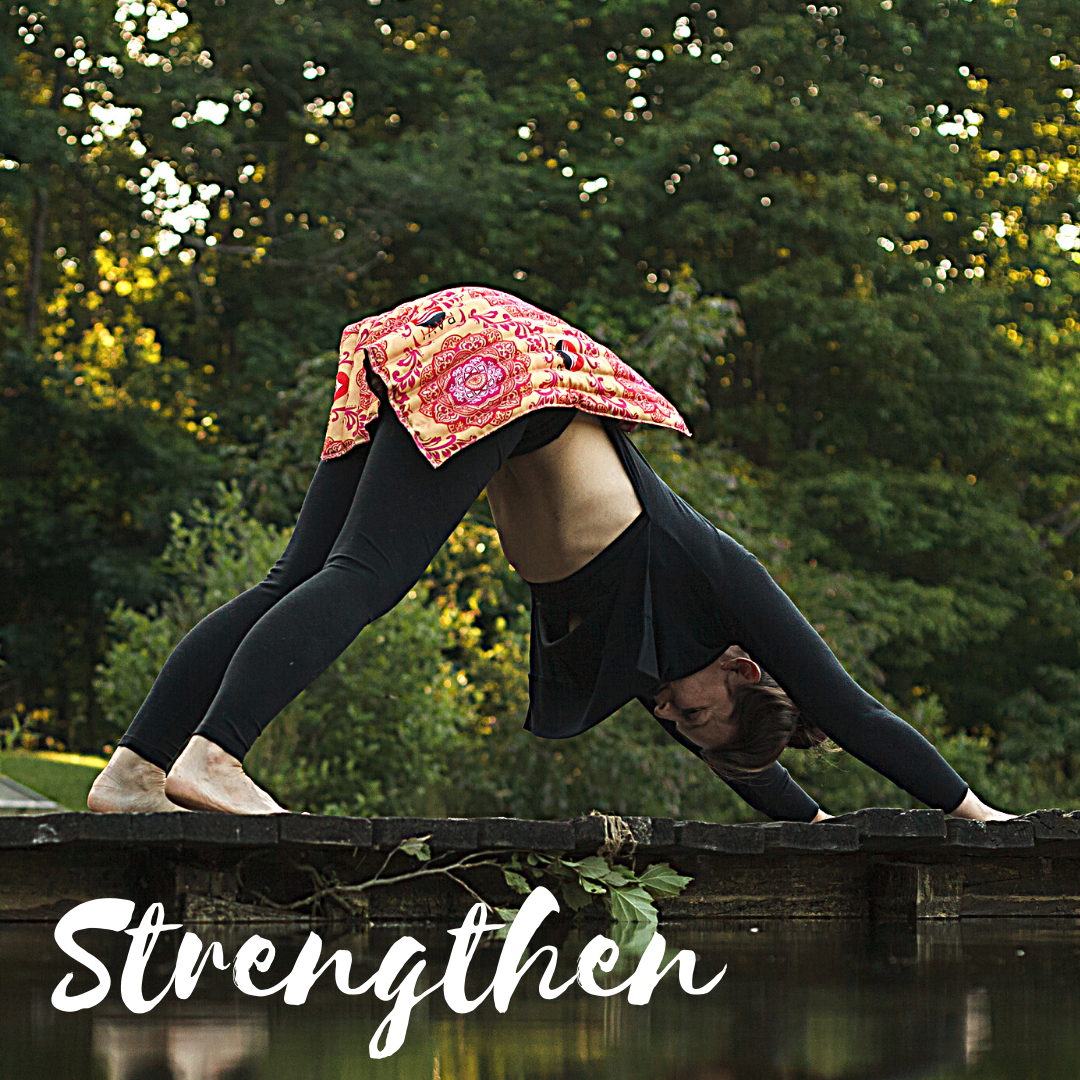 Strengthen
Traditionally yoga is practiced using the body for resistance.  RAVI allows you to create more strength with added resistance.
"Love this item! I've used in yoga class but it's so cool to have one at home…I've used it at night while watching tv and while I'm working from home, letting it rest on my lap."
 ~Connie
RAVI is a mini weighted blanket that can rest on the lap when seated, on any other part of the body, used to enhance a yoga practice and it is very good I think for people with anxiety disorders, depression and PTSD which is my motivation for having it. It is very helpful for me throughout the day and during sessions with my psychologist.  
~James
"With all of the stress everyone has been asking me about the wonderful weighted blankets we used to have in the studio.
Personally, I have 4 in my home office/yoga space. EVERYDAY I have a ravi on my lap while working or when watching TV trying to relax. They are a staple in almost ever one of my yoga classes from trying to get a better stretch, building strength or relaxing in Savasana.
Ravi blankets come for adults and children. Consider purchasing your own during these stressful times. You will be just as happy as I am with them. The benefits are wonderful. Let me know your experiences with the ravi! Also… coming soon… I plan on doing a ravi yoga workshop! Stay tuned!."
~EricaGarciaYoga
"It was a gift for my friend who was awaiting hip surgery. And she said it was a real life saver!"
 ~Susan
"Love the size. Easy to use and move. Great to lay across your core and relax."
~Amy
How is RAVI different from traditional weighted blankets?
The term weighted blanket usually brings to mind the original bed-sized weighted blankets that some people use to help them sleep.  The bed sized blanket is akin to swaddling – bringing comfort to those preparing for sleep.  
RAVI is a miniature weighted blanket.  Our yoga size RAVI is ~22″ x 22″ x 1″ and weighs in at ~8.5lbs.  Perfect for practice, sitting, resting…. 
Each RAVI is made with love in South Carolina.
Tell me more about the origins of RAVI.
RAVI is the invention of a yoga teacher.  Lori discovered weighted blankets when her mother made one for a family member with Autism.  Lori was intrigued by the concept of applying weight to the body to calm the senses to help reduce the effects of stress and anxiety. She created a yoga-sized weighted blanket and named it RAVI (from the center of the word g-RAVI-ty).
In 2016, Lori opened a yoga studio and she began to weave this innovative new prop into her teachings.  The RAVI practice evolved over the years.  Lori now spends her time making RAVI, teaching RAVI Master Class Workshops and RAVI Teacher Trainings at Yoga Studios and Festivals. 
"Students are often surprised by the impact and the multitude of poses RAVI has on the yoga practice." 
Can I use RAVI to help me sleep?
Ravi blankets are mini weighted blankets.  Our creator, Lori says that she does use hers for help with sleep.  She likes having the comfort when she is preparing for sleep and also that it falls off next to her once she is asleep so she is not under it all night long.  If she wakes up, she just pulls it back over her to comfort her back to zzz's.
I'm not sure if I will know how to use the RAVI in my yoga practice?
Lori learned to use RAVI through practice.  She spent 100s of hours in her own practice, and then began teaching students.  There are certain principals that work well – depending on the desired result.  Lori regularly writes instructive Blog Posts to describe the proper use of RAVI within the practice.  The blog is always available for you on the website.  Lori recommends that you sign up for the RAVI newsletter to get periodic updates of the latest blog posts, so you don't miss out.
  Also, be on the lookout for trainings and workshops from Lori and valued partners.
I'm not sure what a weighted blanket feels like?
You probably already have insight into what a weighted  blanket feels like.  If you have been to the dentist and noticed a relaxation response when they draped the lead blanket on you to take your x-rays.  It's the sensation of swaddling a baby.  People often say that they feel calmer in an instant.  This is the relaxation effect of a weighted blanket.
This leads us into another Daily Life RAVI – benefit.  You can take your RAVI anywhere with you.  Dentist, Therapy sessions, Nursing Homes, Cancer Treatment…  literally anywhere you sit and could use a little more comfort!